Patent Palooza
Patent Palooza is an event hosted by the OTC to celebrate the UK Innovation Community. It recognized UK inventors and successful commercialization deals of the previous fiscal year.
The first annual event, held March 28, 2017, recognized 43 inventors for the 30 patents that were issued in fiscal year 2016. Special recognition - an engraved and framed plaque with replica patent - was given to Dr. Chang-Guo Zhan, who reached a milestone of receiving his 20th patent in 2016. He had 5 patents issued last year alone! Each inventor named on an issued patent in FY16 was given a coffee mug with the front cover of their patent printed on it. 
Additionally, recipients of SBIR-STTR grants in FY16 were recognized, as well as inventors on patents for which a license agreement was executed.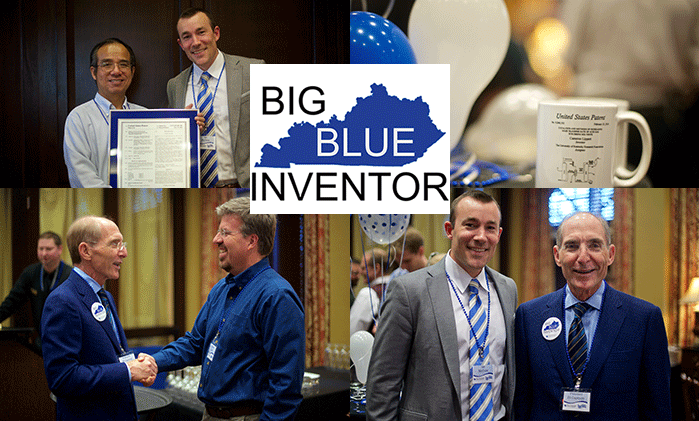 See the list of 2017 honorees below:
Jayakrishna Ambati
Dibakar Bhattacharyya
Gregory Bix
Stephen Brown
Rachael Burrows
Carlo Croce
Daxiang Cui
Seth DeBolt
Kevin Donohue
Linda Dwoskin
Tom Dziubla
Michael Flythe
Benjamin Fowler
Matthew Gentry
Edith Glazer
Peixuon Guo
Farzin Haque
David K. Heidary
David Hildebrand
Zach Hilt
Nick Holubowitch
David W. Horohov
Robert Benjamin Jewell
Emil Khisamutdinov
Barbara Knutson
Daniel Jasinski
Robert Joseph Kuhn
James Landon
Tae Jin Lee
Hui Li
Wei Li
Ying Liang
Stephen Lipka
Cameron Lippert
Bing Liu
Chunming Liu
Kunlei Liu
Bert C. Lynn
Timothy McClintock
Indu Maiti
Charles May
Michael Montross
Sue Nokes
Susan Anne Odom
Bruce O'Hara
Allen Page
Fei Pan
Todor Petrov
David Puleo
Mehdi Rajabi
Stephen Rankin
Tom Robl
Dan Shu
Yi Shu
Vijay Pal Singh
Scott Stephens
Harold Stills
Vitaliy Sviripa
Christopher Swartz
Hsin-Hsiung Tai
Darrell Taulbee
John Thompson
Craig Vander Kooi
Gary Van Zant
Andrzej Wala
Shaoying Wang
David Watt
Bruce Webb
Erfu Yan
Robert Yokel
Chunlei Zhag
Chang-Guo Zhan
Hui Zhang
Wen Zhang
Fang Zheng
Save the Date
Patent Palooza 2018
The second annual Patent Palooza event will be held March 27, 2018, and will recognize all UK inventors and successful commercialization deals of FY17. 
National Academy of Inventors (NAI)
The OTC has started a UK chapter of the National Academy of Inventors (NAI). The UK Chapter of NAI will be a vehicle to recognize and honor individuals who translate their research findings into inventions that may benefit society. Additionally, it will celebrate, as honorary members, individuals who have demonstrated innovation leadership and who foster and nurture innovation at UK, and within the local community. The first class will be inducted at our annual Patent Palooza event on March 27, 2018. Stay tuned for more details on membership in the chapter.

The NAI is dedicated to enhancing the visibility of academic technology and innovation and encourages the disclosure of intellectual property. At the national level, the NAI honors academic invention through it NAI Fellows program. Currently there are 757 Fellows worldwide, at more than 229 universities and governmental and non-profit research institutes. Collectively, they hold over 26,500 U.S. patents, which have generated over 9,400 licensed technologies and companies, created more than 1.3M jobs, and generated over $137B in revenue.
The NAI also publishes a journal, Technology, Technology and Innovation (T&I). It is a forum for presenting information encompassing the entire field of applied sciences, with a focus on transformative technology and academic innovation. As a part of their mission to honor academic invention, they feature an article from the United States Patent and Trademark Office (USPTO) and a profile of a Fellow of the National Academy of Inventors® in every issue.
The University of Kentucky was named one of the 2016 Top 100 Worldwide Universities Granted U.S. Patents, by the National Academy of Inventors. We are ranked #69, up from #92 in 2015. The list is based on data obtained from the U.S. Patent and Trademark Office, for patents granted during the 2016 calendar year. The list is meant to highlight the vital role patents play in university research and innovation. Click here for the press release.